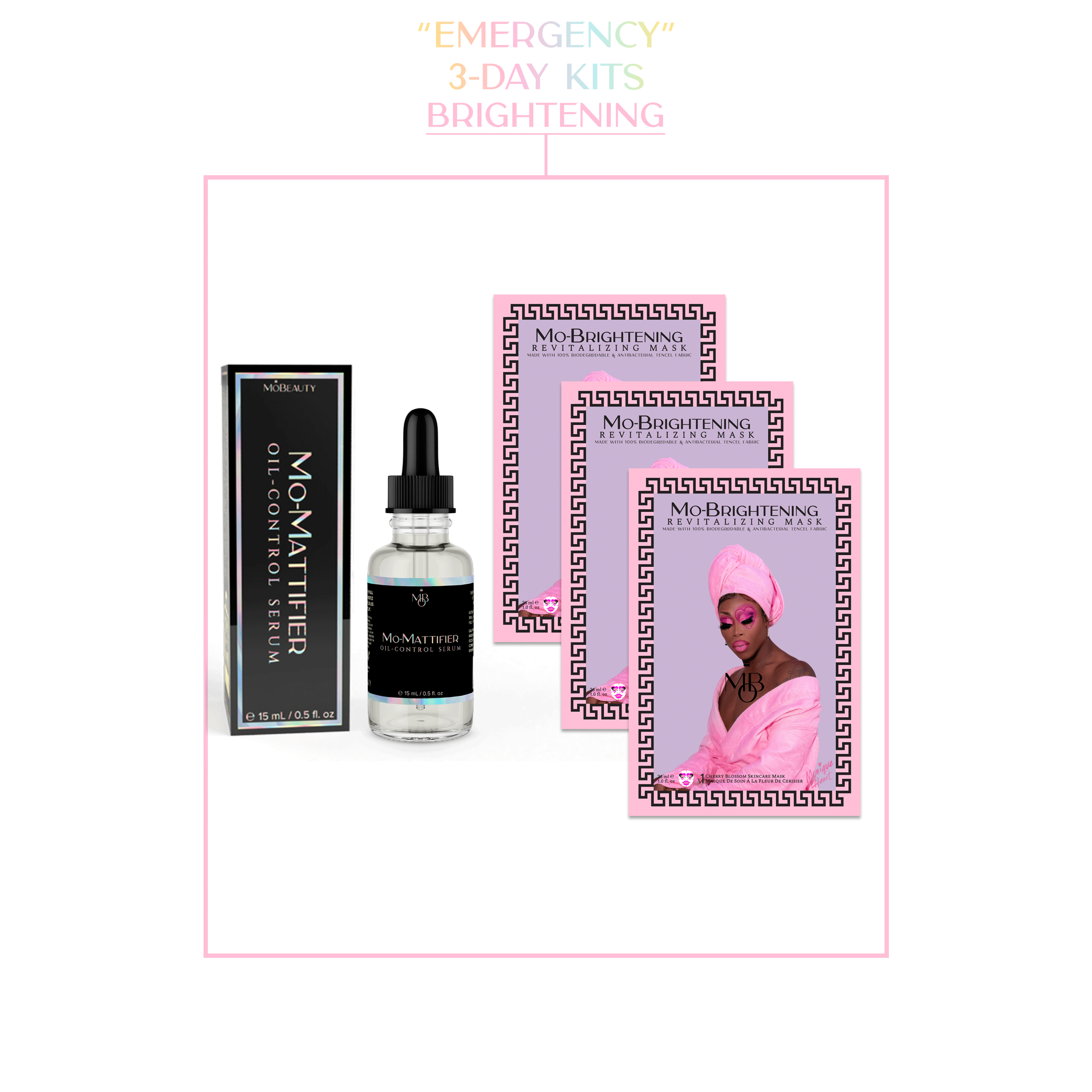 "Emergency" 3-Day Kit: Brightening
$33.00
Regular Price
$36.00
off
---
---
DETAILS
YOUR QUICK FIX FOR THAT SKINCARE "EMERGENCY"
Everything you need for a quick fix and healthier, brighter skin!
MO-BRIGHTENING MASK: Cherry Blossoms & Niacinamide join together to help bring tired, dull skin back to life! This powerful duo plumps & smooths texture, reviving and revitalizing, to give you skin that's luminous, glowing, and bright!
MO-MATTIFIER SERUM: Calendula & Niacinamide are a powerful team that gives you a balanced complexion and leaves your skin shine-free. This concentrated formula helps fight acne, control oil, & address discomfort - all while protecting & hydrating!
BENEFITS
MO-BRIGHTENING MASK:
• Made with 100% Biodegradable and Antibacterial Tencel Fabric and Natural Ingredients
• Brightening, Revitalizing, Pore Cleansing, Moisturizing
• For Normal and Oily Skin

MO-MATTIFIER SERUM:
• Made with Natural Ingredients
• Anti-Acne, Oil Control, Anti-Redness, Pore Cleansing, Deep Cleaning
• For Normal, Oily, and Acne-Prone Skin
INSTRUCTIONS
MO-BRIGHTENING MASK:
Cleanse skin and pat dry. Tear open pouch & carefully fit mask over face. Set a 20 minute timer. Strike a pose and look at how RADIANT you are! After 20 minutes, remove mask and pat serum into skin (or rinse off).

MO-MATTIFIER SERUM:
Apply a small amount to clean, dry skin, using upwards & outwards motions. Allow to fully absorb. Use daily for best results, rotating between serums as needed.
INGREDIENTS
MO-BRIGHTENING MASK: Water (Aqua), Glycerin, Butylene Glycol, Propanediol, Prunus Speciosa (Oshima Cherry) Extract, Trehalose, Niacinamide, Sodium Hyaluronate, Beta-glucan, 1,3-Propanediol, Ethylhexylglycerin, Polyacrylic Acid, Xanthan Gum, Hydroxyethylcellulose, Hydroxyacetophenone, Allantoin, Triethanolamine, Phenoxyethanol, PEG 90M, PEG-40 Hydrogenated Castor Oil, 1,2-Hexanediol, Benzoic Acid, Fragrance (Parfum)

MO-MATTIFIER SERUM: Water (Aqua), Glycerin, Butylene Glycol, Propanediol, Calendula Officinalis Extract, Trehalose, Niacinamide, Sodium Hyaluronate, Beta-glucan, 1,3-Propanediol, Ethylhexylglycerin, Polyacrylic Acid, Xanthan Gum, Hydroxyethylcellulose, Hydroxyacetophenone, Allantoin, Triethanolamine, Phenoxyethanol, PEG-90M, PEG-40 Hydrogenated Castor Oil, 1,2-Hexanediol, Benzoic Acid, Fragrance (Parfum)
CONTENTS
Contains: 3 x Mo-Brightening Skincare Sheet Mask (26 ml / 1.0 fl. oz), 1 x Mo-Mattifier Serum (15 ml / 1.0 fl. oz)
"Emergency" 3-Day Kit: Brightening
$33.00
Regular Price
$36.00